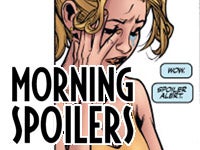 New Doctor Who pics include both the Tenth and Eleventh Doctors, and there are intense stills from The Prisoner and Fringe. Zoe Saldana talks about disrobing in Star Trek 2. Plus Harry Potter, Supernatural, Smallville, Heroes and Stargate Universe spoilers.

Star Trek:
Zoe Saldana says she can't wait to take off her shirt again, although she presumably doesn't know if that's happening in the new movie. She also hints that filming may take place next year after all, despite all those delay reports. [E! Online]
So what's the new one about? J.J. Abrams offers some vague ideas:
The second one has an obligation to go deeper and maintain the fun and adventure in the sense of optimism and scale that [Gene] Roddenberry created. But I do think it has to evolve and not become some polemic over-the-top, on-the-nose allegory. It needs to be something that is not just about the characters meeting each other and having their first adventure; it needs to be about having their most meaningful one.
But he says it definitely won't be called Star Trek 2.[MTV]
Harry Potter And The Deathly Hallows:
There's an insanely detailed description of Bill Weasley's wedding scene, at the link. [HP4U]
Doctor Who:
The Eleventh Doctor lands in a graveyard and has a jolly chat with his new companion Amy, in some new set pics. Theories suggest this is for a two parter starring Sam Davies, a child actor, playing Elliott. And there are a couple of Youtube videos of the filming as well. Photos by the amazing Scooty, more at the link. [Gallifrey Base and BlogtorWho]


And the writer of the next animated adventure, "Dreamland," talks about the creation of an American companion for the Doctor, Cassie Rice. [BlogtorWho]


Digital Spy has more details about this week's long-awaited two-parter, guest-starring David Tennant as the Tenth Doctor. Tennant doesn't show up until the end of part one, and his first words are, "Stop this wedding!" Sarah Jane's relationship with businessman Peter Dalton moves quite quickly, although there is liberal use of cue cards saying "One Week Later." The Trickster appears to behind the whole business, and when the Doctor shows up, he's quickly parted from Sarah Jane as well as his TARDIS. He's got the kids to help out, though, and one of them receives a massive electrical shock. The Doctor says "Allons-Y" and "I'm so sorry." And he's referred to as "the man of ice and fire," and told "the gate is waiting for you." At the end, Sarah Jane tells the Doctor (I think) that nobody will ever forget him. One more pic at the link. [Digital Spy]

The Prisoner:
A big batch of new stills from the AMC miniseries remake. Fingers massively crossed! [UGO]


Fringe:
A bunch of pics from the Nov. 12 episode "Of Human Action." The gang investigates a kidnapping that rapidly turns into a hostage situation in New York, and discovers an unknowable force has "mind-blowing consequences." And they go to Nina Sharp for help. [Fox]


And here's a casting call for a character we'll be meeting in episode 2x12:
[CDC FIELD HEAD ARNOLD MCFADDEN ] Male. Open Ethnicitys. This authoritative man in his mid 40s is brought in to help prevent a potential bio-terrorism event...GUEST STAR
Supernatural:
I'm pretty sure this is a new clip from Thursday's episode, featuring a super-aged Dean. [TrekMovie]

And here's the synopsis for the ninth episode, which I would be dreading if it wasn't written by Eric Kripke himself:
IT'S A SUPERNATURAL CONVENTION! Super fan Becky (guest star Emily Perkins) uses Chuck's (guest star Chuck Benedict) phone to trick Sam (Jared Padalecki) and Dean (Jensen Ackles) into attending a Supernatural fan convention, complete with fans dressed up as Sam and Dean. One of the activities is a live action role playing game, but things quickly turn sour after a real ghost appears on the scene.
[SPNSite]
Smallville:
We'll be meeting a new villain in episode 9x12. Could this be Amanda Waller?
[ANDREA POTTER] 35 – 55 yrs old. A heavyset, imposing and ruthless African American woman. She has sinister plans for the citizens of Metropolis…Do not limit your suggestions to heavyset. This role is established in Episode #912 but is a RECURRING GUEST STAR role.
Producer Kelly Souders warns: "You will see more people than you can imagine die in the first 12 [episodes]. Luckily it's Smallville, so not all of them stick." He says some of these deaths may take place in the future, and we also may see some people snuff it in some of Lois' visions. [TV Guide]
Geoff Johns twittered that his episode featuring the Justice Society is actually "an insane DCU infused two-part epic. Part I is 'Society' and Part II is 'Legends.'" And yes, it features Stargirl, Dr. Fate and Hawkman. [Twitter via SpoilerTV]
Heroes:
Another episode, another flashback. Here's a casting call for episode 4x15, one of the truncated season's final episodes:
[20 YEAR OLD SAMUEL] 20 Male. Caucasian. A passionate rock & roller in love with his childhood sweetheart. Dangerous and charming. We are casting the young version of the actor Robert Knepper…Please see attached photo. Actor will not have lines but will be featured and paid.
And the episode before that, 4x14, will be called "Let It Bleed." [The ODI]
Stargate Universe:
Here's a clip from Friday's new episode, "Water," that I don't think we've shown you yet.


And here are some stills from the episode. [SpoilerTV]


Additional reporting by Mary Ratliff.