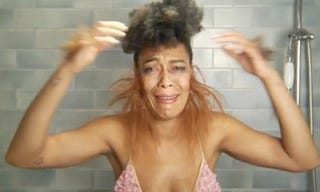 This week in Cult Worship, we mix the supernatural and the campy with a "tranny werewolf" on the run, a review of In Search of Memory and a really crappy end of the world.
I Was A Tranny Werewolf
From the makers of Dragzilla and Night of The Living Gay comes I Was A Tranny Werewolf. It's about as camp-tastic as you can get while keeping it's NSFW stripes well in play.
Waiting Room
I kind of like the little synopsis of Brazilian film, Waiting Room, picked up by Quiet Earth. Somehow, something terrible happened and now people just wander around with gas masks at the local coffee shops, full of hate. Sounds about right.
A young man wearing a gas mask wanders through the deserted streets of a crumbling city. Only a few people - all male - still roam the streets and frequent the coffee shops. Their interaction is minimal and marked by sudden and unprovoked outbursts of violence. Everyone is seemingly waiting for an undisclosed something.
TRAILER - Quarto de Espera from Tokyo Filmes on Vimeo.
2012: Supernova
Well, it was bound to happen. there's a crappy 2012-alike coming out under the radar hoping to ride the whole "we're all gonna die" wave that the real 2012 will certainly make in a month... but this one doesn't have any actual celebrities.


In Search of Memory
(Review by Julia Carusillo)
Imagine Science Film Festival opened last week in New York City, promoting character-driven science and science fiction films that are both credible and entertaining. In Search of Memory, Petra Seeger's documentary on the life and work of Nobel Prize-winner Dr. Eric Kandel, certainly fulfilled the festival's credo, offering a moving and interesting portrait of bow-tied, bespectacled neuroscientist.
Kandel's work studying memory, specifically the hypothalamus' crucial role in permanently storing significant events, has earned him international acclaim, but the scientist remained humble, personable, and even zany at times throughout the documentary. The film alternates between Kandel and his wife Denise's journey revisiting their roots in Nazi-occupied Austria and France, respectively, and scenes of Kandel and his friends and colleagues in New York, where he is a professor of biochemistry and biophysics at Columbia University. Kandel is a real-life character far more interesting than fiction, speaking eloquently and thoughtfully about his time in war-torn Vienna, which makes Seeger's choice to include reenactments of Kandel's childhood more and more curious as the film progresses. The sepia-toned scenes stand out against a livelier and much more authentic portrait of the scientist's real life, which is filled with Kandel's children and grandchildren, work colleagues and friends. There's an especially tender scene of Kandel and two wizened scientist friends cavorting at a local Starbucks, discussing brain cells, psychiatry and the good old days.
The film does an admirable job of focusing on the scientist more than the science, so that during times when Kandel does go into great detail about brain processes, the audience truly wants to hear what he has to say. Even if you gloss over the intense slug brain surgery, the film has much more to offer, namely an exploration of the inspirational life of Dr. Kandel, whose cult following including one young woman in the film likens to that of a rock star. When visiting where his father's toy shop used to be in Vienna, the charming now-owner of the storefront recognizes him almost immediately, informing Kandel that people who have read his book make pilgrimages to the place that meant so much to him growing up. Kandel is refreshingly candid throughout the entire film, a joy to watch and certainly a joy to hear speak during the post-screening Q&A, where questions ranged from highly scientific queries to jazz musicians wondering if there's a pill for better remembering chord-progressions. Ultimately, the title of the film (named after Kandel's 2007 book) says it all, as the viewer joins Kandel on both a scientific and emotional search for what memory is and how it shapes who we are.