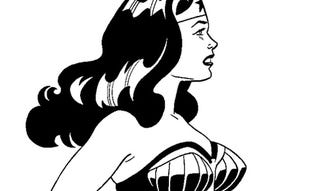 Celebrated by two comic stores (one in Portland, OR and one in Flemington, NJ), Wonder Woman Day is a charity event offers signings and auctions benefiting domestic violence charities. Click through to see some of the art up for auction.
Today is the fourth annual Wonder Woman Day, officially recognized by the city of Portland - Here's the official Mayorial proclamation for doubters - and citizens of Portland have the chance to celebrate by hanging out with current Wonder Woman creators Gail Simone and Aaron Lopresti, as well as creators Ron Randall, Anne Timmons, Paul Gulacy and Love & Rockets creators Jaime and Gilbert Hernandez at Excalibur Comics (2444 SE Hawthorne Blvd) starting at 12pm today. The New Jersey event happens at Comic Fusion (42 Main St., Flemington, NJ), with guests including classic comic artist Joe Sinnott.
Both events will feature silent art auctions, giving you a chance to help out domestic abuse charities and get some amazing art in the process. Here're some of the pieces you can bid on:
Portland

Flemington

You can learn more about the history of the event here.