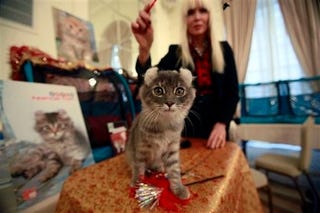 This kitten is a rare genetic/cyborg experiment that poses a simple question. What would happen if cats could hear radio waves and receive data via microwave in their ears?
OK, I'll admit it. This cat is genetically engineered in that old-school breeder way, and it doesn't really have antenna dishes in its ears. Though that WOULD BE COOL.
What you're actually seeing is 4-month-old long hair American Curl showcat Sarah Jessicurl Parker. This photo was shot during a media preview for "Meet the Breeds" in New York. The event is the world's largest showcase of cats and dogs, and will take place at the Jacob Javits Center in New York this weekend.
via AP Photo/by Mary Altaffer