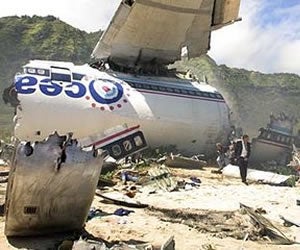 It's the crossover you never thought you'd see, as Lost's Oceanic Airlines is about to suffer another publicity disaster... when a second plane crash-lands in the middle of ABC's Desperate Housewives.
The plane crash is creator Marc Cherry's latest publicity stunt for the network's Sunday night soap opera, but the identity of the airline apparently comes from an Easter Egg-friendly ABC, according to anonymous sources talking to E! Online's Kristin Dos Santos:
"Everyone loved how well those 'ABC House' promos did last year," one alphabet-net mole tells me, referring to the promo spots in which characters from different ABC series mixed worlds. "We're looking at ways to find more fun crossovers between shows, and so the idea came up to have the Desperate Housewives plane be Oceanic."
This will be just the latest crossover for Lost's troubled airline; advertisements for Oceanic have appeared in Chuck, Pushing Daisies and the series premiere for FlashForward.
Lost Plane May Crash on Wisteria Lane [E! Online]