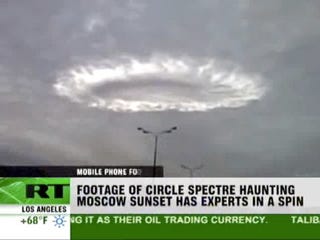 A strange cloud formed above Moscow last Wednesday which "scientists" dismissed as an"optical illusion" - about one BS excuse step below the "swamp gas reflected the light from Venus." We, however, think otherwise: Moscow's been FlashForwarded.
First the evidence:


I'm loving the "scientist" excuse, come on people that's the oldest trick in the book. If I saw this this report in NYC I'm pretty sure I'd recognize it as code for "get the hell out, run run run." But what if it's not just a mere alien ship? Taking a cue from last week's FlashForward, don't the two illusions appear slightly similar?
This strange figure in the sky appeared at the end of the episode when the little town in Africa was subjected to a flash forward. Did the tower induce the incident? We don't know just yet, but the people of Moscow should head outside and check for odd buildings under the optical illusion...or flee.
[via NY Daily News]