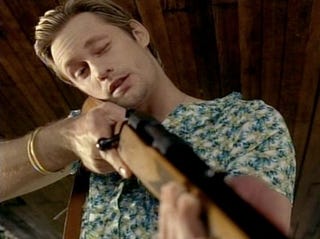 That's right, vampire dirt-sex lovers, one of True Blood's beloved characters is going to die in the third season, according to showrunner Alan Ball. So which one will be dealt out of the next WILD game of vampire Yahtzee? Spoilers...
Alan Ball revealed to TV Guide
"Somebody is going to bite the dust and it's going to be really good to see them get what they deserve," Ball says. The only clue the Blood boss would reveal is that "it's a person we'll be happy to see go."
So who should it be, now that my blood lust has been quenched with the death of Eggs I have to admit, one good turn deserves another, can we kill him again? If not can his death be at the beginning of all the "last week on True Blood" recaps? It would be better than vampire dirt sex.
But moving on, completely disregarding any book spoilers, let's wager who "gets it" next year....