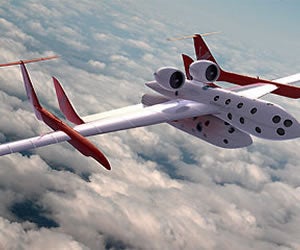 For those who felt that Virgin Galactic's plan of passenger spaceflight fell down due to the lack of provision for satellites, relief is at hand: The company has announced that they will be adding private satellite launches to their offerings.
The new initiative, which aims to reduce the cost of satellite launch tenfold to somewhere in the region of one million dollars, was announced at the International Astronautical Congress in Daejeon, South Korea. Requiring the creation of a low-cost launch system won't be cheap, warns Virgin Galactic president, Will Whitehorn:
This effort will involve designing, building and marketing a launcher rather than the satellites themselves... We hope to get satellite launches underway by 2013 or 2014.
Virgin Galactic adds satellite launches to space tourism [New Scientist]