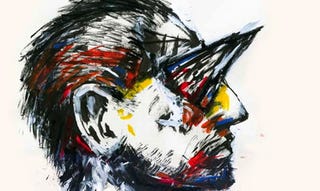 Just in time for the spookiest holiday of the year, this Wednesday sees the release of Clive Barker's Seduth 3-D, a brand new comic bringing Barker's brand of horror up close and personal. Here's a preview of what to expect.
IDW's official solicitation for the project goes a little something like this:
Master of Horror Clive Barker offers up an all-new, standalone tale presented in chilling 3-D and featuring the art of Eisner-nominated artist Gabriel Rodriguez (Locke & Key)! When celebrated architect Harold Engle first glimpses the small cloud of darkness inside a glittering, priceless diamond, he can't possibly be aware of the terrible plague contained within. "Seduth" follows Engle on a surreal journey through murder and madness to the very heart of existence and a terrible, impossible choice-to unravel the very fabric of the world, or to save it?
Seduth 3-D is released on Wednesday.