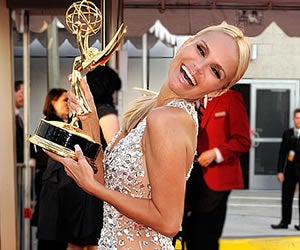 After Pushing Daisies won four Emmy awards - including last night's Best Supporting Actress in a Comedy nod for Kristin Chenoweth - leave it to the show's creator Bryan Fuller to say just what we were all thinking.
The Hollywood Reporter quotes the Daisies, Dead Like Me and Wonderfalls creator as saying,
It's a tremendous honor to see 'Daisies' win in so many categories — and in the spirit of the show, win posthumously. Now can we please make the 'Pushing Daisies' movie?
While we're waiting for that, Daisies is set to return in a series published by DC Comics' Wildstorm imprint. Fuller, meanwhile, has left the world of genre TV behind after leaving Heroes for a second time this summer; he's currently developing Augusten Burroughs' novel Sellevision for NBC.
'Pushing Daisies' sees life after death [Hollywood Reporter]