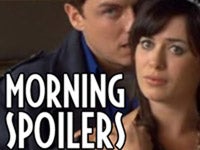 Three new TV spots look inside the Surrogates conspiracy, and the Dollhouse cast describes life after Alpha's attack. Also, the first reviews for The Road and Zombieland, and spoilers for Heroes, Supernatural, Eureka, Pandorum, Smallville, FlashForward, Warehouse 13 and Fringe.

Surrogates
Below are the first official TV spots for Surrogates:

Dollhouse
When the season premieres, the Dollhouse is still reeling from Alpha's attack, and the idea that he's still out there and has access to Dollhouse technology is very present in everyone's minds. The administration will be trying to balance finding Alpha with the daily business of the Dollhouse.
Sierra is still, um, servicing clients, and the first time we see her during the season, she will be coming back from an engagement. Then we will see her a couple of episodes later, when she will have a moment with Victor that hints at their continuing relationship. Dichen Lachman, who plays Sierra, says we'll see more stories focusing on her this season.
Meanwhile, as you'd expect, newly promoted security chief Boyd will be making sure that the Dollhouse functions smoothly, that the Actives are kept safe, and that the handlers have enough information to protect them. [Sci Fi Wire]
The Road
The first reviews of the film adaptation of Cormac McCarthy's The Road are emerging, including one from Variety and another from The Hollywood Reporter. Both reviews discuss the film's heavy emphasis on flashbacks, the departure of Charlize Theron's character, and the central relationship between the father and son. As the father and son try to reach the warmer south where life may still be possible, the film's horrors are kept in the background, except for one scene where they find a house with a dozen naked, writhing men and women missing some limbs — stock for cannibals.
Supernatural
Here's the official description for the season's third episode, "Free to Be You and Me:"
Not sure he trusts himself anymore, Sam (Jared Padalecki) decides to give up hunting, but a late-night visitor (guest star Adrianne Palicki) won't let him off the hook that easily. Dean (Jensen Ackles), intent on stopping the Apocalypse, continues hunting on his own and teams up with Castiel (Misha Collins) to find the Archangel Raphael, as Castiel believes Raphael knows God's location.
[SPNsite]
Zombieland
A reader at /Film caught a screener of the film. He enjoyed the film overall, and his review only contained one particular spoiler: towards the end, Emma Stone's character Wichita and Abigail Breslin's character Little Rock end up calling for help from the top of an amusement park ride, after being far more capable than the male characters for the earlier portion of the movie. [/Film]
Pandorum
A few creepy new images from the space-horror thriller:

More at the links. [Fantasy.fr and UGO]
And here is a foreign one-sheet:

Seth Rogen gets a few more guest stars, in the form of Tom Wilkinson (who played the memory-wiping doctor in Eternal Sunshine of the Spotless Mind) and David Harbour (who played Bond villain Gregg Beam in Quantum of Solace). [IGN]
Fringe
The eighth episode will feature a character named Christine Hollis, an attractive and feisty art student. [Spoiler TV]
Heroes
Elisabeth Rohm, who played prosecutor Serena Southerlyn on Law & Order, will play a character named Lauren Gilmore in the eighth episode. [Zap2it]
And here is the Season 4 sneak peek from the Season 3 Blu Ray set:

Smallville
Here's the official description for the Season Nine premiere, "Savior:"
Clark (Tom Welling) tells Jor-El he's ready to start his training, but Jor-El sends him back to Metropolis to cut ties with Lois before he can begin. Chloe (Allison Mack) is shocked when Lois (Erica Durance) suddenly reappears after having been missing for weeks, but Lois has no recollection of vanishing into thin air with the Legion ring. While investigating a monorail crash, Lois meets John Corben (guest star Brian Austin Green), a new reporter at The Daily Planet, with a negative attitude toward the Red-Blue Blur. Chloe begs Clark to use the Legion ring to go back in time to save Jimmy, but he refuses, driving a wedge into their friendship. Meanwhile, Oliver (Justin Hartley) continues down a dark road, and Zod (Callum Blue) arrives at the Luthor mansion.
Warehouse 13
It looks like the Warehouse is going nuclear in next week's episode "Breakdown:"

[Movieweb]
Eureka
There's a lot of fur coming up in the season's 17th episode, "Have an Ice Day:"

[Pizquita]
FlashForward
The eighth episode will apparently feature a game of Texas Hold 'Em. [Spoiler TV]
Eastwick
The producers are looking for a Bradley Whitford or Jon Stewart type for Max, a recurring role as a charming, intelligent, and witty journalist who has come to Eastwick to steal Joanna's heart, and may end up being a love interest as well. [Spoiler TV]
The casting slides for Max depict a scene in which Max catches Joanna in a bar talking to herself, willing a glass of beer to move. Her mocks her for a bit, and she tells him that she is trying to recreate an experience she had. Max tries to prod details of the experience out of her, but she's pretty mum on the subject. He advises her that, if she wants to replicate the experience, she should try to replicate the feelings she had leading up to it, like Bill Murray in Groundhog Day. [Spoiler TV]
Another journalistic position has been filled, with Martin Mull cast as Milton, a retired reporter who's got dirt on the devilish Daryl Van Home.
And here are three new posters of the witchy women:

CW has released the official description for the third episode "Friday Night Bites:"
Elena (Nina Dobrev) tries to ignore Bonnie's (Katerina Graham) warnings about the disturbing vibes she got from Stefan (Paul Wesley). Tyler (Michael Trevino) tries to embarrass Stefan by throwing a football at him, but Stefan effortlessly catches and passes the ball back, impressing everyone with his skill. Mr. Tanner (guest star Benjamin Ayres) reluctantly lets Stefan join the football team. Elena invites Stefan and Bonnie to dinner, hoping that the two will bond, but the evening is disrupted by the unexpected and unwelcome arrival of Damon (Ian Somerhalder) and Caroline (Candice Accola). Finally, the town is shocked by an act of violence.
In the sixth episode, we'll meet Alaric, who may become a regular character. Alaric is Mystic Falls' hot new history teacher. His charming, nerdy qualities will win over the the girls, but he has a dark, malicious side, and when his deadly agenda is revealed, all hell will break loose. [Spoiler TV]
And here are promo images from the second episode, "Night of the Comet:"

And still more from the third episode:
Additional reporting by Alexis Brown and Charlie Jane Anders.