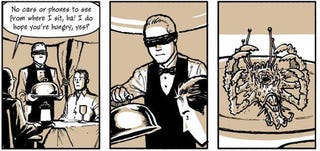 Fans of surreal mysteries like Lost and The Prisoner would do well to check out Sin Titulo, Cameron Stewart's creepy noir comic involving malevolent nursing home employees, teleportation, and people psychically connected through a vision of a dead tree.
Along with Karl Kerschl, of the previously mentioned The Abominable Charles Christopher, Cameron Stewart is part of Transmission X, a small collective of enormously talented professional comics artists who are trying their hand (with great success, I might add) at webcomics. Stewart has, among other things, provided artwork for Catwoman, Grant Morrison's Seaguy, the Eisner-nominated Vietnam series The Other Side, and the high-energy, post-apocalyptic punk rock book The Apocalipstix.
In Sin Titulo (or simply, Untitled), Stewart puts on his writer hat as well, telling the story of Alex Mackay, an emotional dysfunctional young fellow about to spiral down the rabbit hole. Alex has been having a strange recurring dream, one in which he sees a dead, gnarled tree on a beach. Sometimes he sees someone on the beach, but the image is never clear, and he always wakes before he can see who it is.
He gives little thought to the dream until one day when he goes to visit his grandfather in the retirement home, only to discover that he's been dead a month. And, when he goes through his grandfather's effects, he discovers a recent photograph of his grandfather with an attractive young woman, a woman Alex has never seen before. When he asks the retirement staff about the picture, however, their strange and terse reactions make him suspect that something sinister is at work. As he begins to investigate the woman in the picture and Wesley, the retirement home's menacing orderly, Alex is quickly drawn into a series of ever-deepening mysteries involving coma patients, murder, teleportation, and the mysterious tree, and finds his life, liberty, and girlfriend all placed in jeopardy.
Stewart is well-versed in the language of comics, and Sin Titulo is at its very least a prime example of expert visual scripting. Each episode is set in a rigid eight-panel structure that neatly conveys the suspense and noir tone of the series, and that Stewart can so easily convey small emotional shifts through his thick black lines makes it fantastically jarring when a character displays genuinely intense emotion.
Sin Titulo is far grittier than most webcomics currently running, and when violence occurs, it's not the stylized violence of many comics, but very real, very present violence. Characters get beat up, get in car accidents, and when they do, their bones break and blood gets everywhere. When a punch becomes a frightening thing, characters who throw them become all the more terrifying, as with the squat, muscular orderly — even before we get the sense there may be something supernatural to him. This sense of realism pervades the comic; cubicles, diners, hospital rooms are all stark and unfriendly, but utterly familiar.
But what makes reading Sin Titulo an intriguing and unnerving experience is the way Stewart, borrow a page from the likes of David Lynch, juxtaposes this realism with the fantastical. On panel, we see plenty of punches thrown, but off-panel, we learn that characters have been ripped to shreds. Alex's vivid childhood memories are haunted by a monstrous apparition, and he begins to encounter surreal visuals: a network of cinderblock rooms where the blond woman speaks over a monitor and an old telephone, and a beach front dinner setting , where a blindfolded waiter serves up an unappetizing crustacean. And then there's the fact that Alex isn't the only one visiting the beach and seeing the mysterious dead tree.
Sin Titulo is not a comic for those who like quick and satisfying answers to their mysteries. Just as Alex's head has stopped spinning from the latest series of unexplained developments, a new wrinkle emerges. But for those willing to sit back and watch the story unfold and the protagonist unravel, it's a well-paced and often unsettling read.