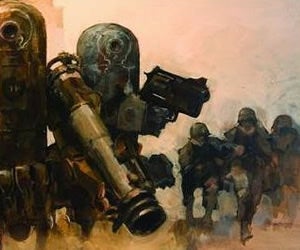 World War Robot, Ashley Wood's comic about the space war between man and machine, has been optioned for a movie. That's the good news. The great news? Jerry Bruckheimer is producing. There is no way this movie can fail.
Variety reports that the deal was closed at last week's San Diego Comic-Con, and that Wood and Ted Adams - president of WWR publisher IDW - will act as executive producers. WWR the books take the format of war diaries from the end of a long war between humans and robots both on Earth and in space (More specifically, the moon and on Mars). The series - which debuted last year - was described by co-creator Jon Gibson as
Band of Brothers with gun-toting machines... Badass battles, really intense human/robot drama, plus it gets kinda political. [It's] also dosed with a bit of "desperation comedy". Like laughing while you're crying.
Is it too much to hope that Michael Bay can get himself involved in some way?
Bruckheimer gears up for 'War' [Variety]