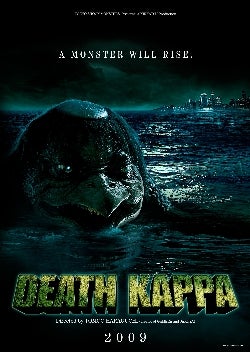 Sick of waiting for another round of Gamera vs. Whatever, or Gojira vs. Roland Emmerich? Now we bring you Death Kappa, the tale of a mischievous, child-eating sprite who has grown big enough to stomp Tokyo.
Twitch has this teaser, including some commentary from director Tomoo Haraguchi, who has previously worked on effects for Gamera flicks and created the fine 2004 movie, Werewolf Warrior. I like that he has a healthy respect for the idea of putting on a monster suit and crushing miniature cities. That kind of film craft should never die.
I will never look at kappa maki the same way again.
via Undead Backbrain (and Avery Guerra of course)