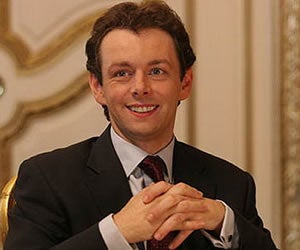 The identity of Tron Legacy's big bad may have been revealed, and it's... none other than former British Prime Minister Tony Blair? Okay, it's really Michael Sheen, the actor who played the politician in The Queen, but still.
Although the Tron role won't be Sheen's first nerdbait - He's playing the villain in Twilight sequel New Moon, and has also appeared in Underworld: Evolution and Timeline - it's certainly going to be an unusually high profile role for the man currently known more for his portrayal of Blair in The Queen and The Deal, and for his David Frost in last year's Frost/Nixon. The confirmation of the long-standing rumor came, oddly enough, from Disney's Twitter feed.
Fans should get used to seeing Sheen in big budget movies; in addition to New Moon and Tron, he's also rumored to be playing Ernst Blofeld in the next James Bond movie.
[Via]