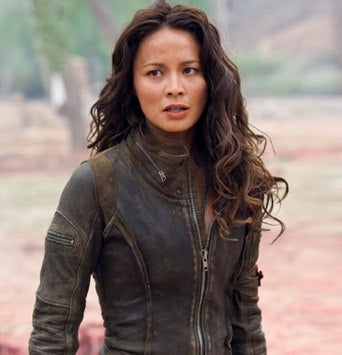 Moon Bloodgood teams up with Noah Wyle in TNT's new alien-invasion series, created by Steven Spielberg. Glad to see Moon sticking it out in the genre, after Chun-Li, Journeyman and Terminator Salvation. Maybe the fourth time will be the charm.
Also joining the cast are actors Jessy Schram, Seychelle Gabriel, and Maxim Knight, who will all tell the story of what happens on Earth after aliens have wiped out most of the human population. They'll most likely be the remnants of the human race, made up of soldiers and citizens.
Bloodgood will play Anne Glass, a therapist working with the children to help them with the trauma of the alien invasion. With her strength and dry sense of humor, Anne, whose husband died during the invasion, becomes a bedrock of the survivors' community and Tom's confidant.
We're rooting for this show to succeed, since television needs some more original science fiction — and anything that lets Spielberg know there's a demand for him to give us more movie aliens is a good thing.