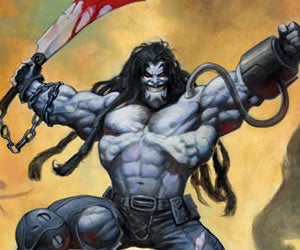 Feetal's gizz! It's not just Anthrax's Scott Ian who's throwing his celebrity behind DC Comics' spacebound biker bounty hunter, Lobo - Joel Silver is planning to make a movie about the character, and he's teasing Avatar-esque ways of doing it.
Talking during a press appearance for Orphan, Silver said that the Lobo movie is the project he's currently most excited about getting behind:
"I think we can do it. We've got a script we like... I think it's structured now as a PG-13 movie, I think we've done it that way, but I love it. I've just wanted to make it for a long time, and I think it's a great character, a great guy.
You have to admit: Silver's a lousy judge of character. Lobo, created as a minor character for forgotten comic The Omega Men became a breakout star in the late '80s after appearing in the popular Justice League International series. A bounty hunter as metal as any dolphin-loving unstoppable killing machine could be, he went on to appear in multiple series throughout the next decade and remains a cult favorite today for his unusual cursing (That's where "feetal's gizz" above comes from. See also "bastich") and potential for violent, dark comedy. He's many things, but "a great guy"? Not so much.
When asked if he could hint at how Lobo would be portrayed, Silver apparently changed the subject... or offered an interesting tease:
When any of you see Avatar, see pieces of it, the technology is genius, the stuff that's out there that is doable is fantastic.
Motion-captured ultraviolent space bounty hunters? Where do we sign up?
Producer Joel Silver: Lobo script is done [SciFi Wire]