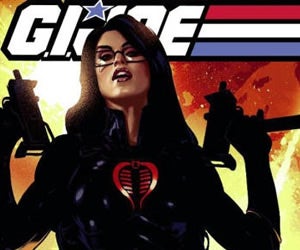 Even if the GI Joe movie disappoints those looking for a fresh new take on their favorite childhood toys, IDW Publishing has a good way to provide one — World War Z's Max Brooks is writing a Joe comic.
Brooks, who came to prominence with the Zombie Survival Guide and World War Z, will be abandoning the undead for his GI Joe series from the San Diego-based publisher. Editor Andy Schmidt explained the origin of the project:
Both Chris Ryall (IDW Editor-in-chief) and I read World War Z and we knew we had to try to get Max to write something for us. What we didn't know is that Max is a huge G.I. JOE fan and had expressed interest in writhing G.I. Joe to (Cobra writer) Christos Gage... Synchronicity ensued and [the series] has never looked or read so well.
For his part, Brooks is managing to keep everything in perspective about the series:
I'm thrilled to be working on an icon of my youth, and after this, my next project will be Different Stokes 2.5.
The five-issue series is expected to be launched next year.