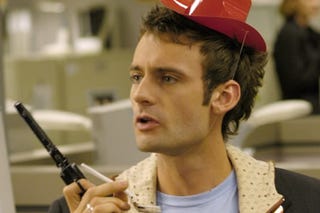 Clark Kent has found a new nemesis for the ninth season of Smallville, and it's someone we've been expecting for years. Producers have announced that British actor Callum Blue will be joining the series to play General Zod.
Blue, who has previously starred in Showtime's The Tudors and Billie Piper-starring Secret Diary of a Call Girl, will finally be giving a face to Zod, who has been part of the show's mythology since the fifth season, but has never actually appeared onscreen until now (He previously possessed Lex in the fifth season finale/sixth season opener).
The character first appeared in 1961's Adventure Comics #283 as a villain in a Superboy short, but really came to prominence as the main villain in 1980's Superman II, birthplace of the now-famous "Kneel before Zod" line.
Smallville season nine begins on the CW in the fall.
'Smallville' casts its General Zod [Hollywood Reporter]