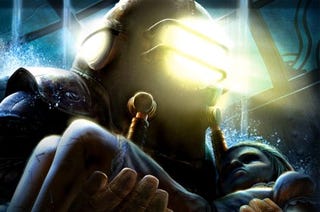 After hearing about Hollywood's sticker shock over the Bioshock movie's rumored $160 million dollar budget, we knew they'd be coming up with new ideas to try and lower the overall cost. But if the rumored lead actor gets the part, it'll be kind of a steal for Universal.
Prison Break actor Wentworth Miller took to his Twitter to let his fans know that he's talking Bioshock. And later tweets seem to imply it's indeed the video-game's movie version.
This means a few things: that Hollywood is moving forward with the long-in-development film, budget problems or not. Plus it means actors like Miller are going to be getting a second look as they are a bit cheaper than the big Hollywood A-list actors. I'm completely for this. I like Miller — he's a solid actor in Prison Break — and I'm interested to see more from him. And I want to see who else they start to tap for roles in this film.
UPDATE: Sorry guys, I was had. Thanks to commenters pointing this out, looks like this Twitter might be a big fat fake. I apologize if I excited anyone (including myself). I wish it was true because I really would like this movie to be filmed.