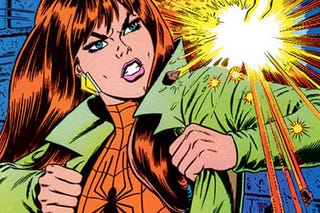 Retcon sense tingling! Less than six months after it was introduced, Spider-Man's newspaper makeover - which annulled his marriage to match his comic-book bachelor status - has been ditched because of reader complaints.
Peter Parker woke up to find himself younger, single and back in college back at the start of the year, in a move described as "keeping in line" with the comic book incarnation of the character, who'd managed to make a deal with the Devil, undoing his marriage a year earlier. But while the new comic book status quo has stuck, Sunday's installment of Spidey's newspaper incarnation saw Peter wake up, suddenly married again:

As Josh points out, the change (back) is probably due to something other than the "your letters" referenced, because, really; who'd write letters about the Spider-Man strip? But I love that Mary Jane doesn't seem to be freaked out that her husband is mistaking her for his wrinkled old aunt. Who knows what kinky roleplay goes on between those two...?
Dream Loser [The Comics Curmudgeon]