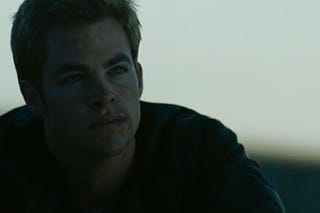 JJ Abrams' dazzling lensflares just made you hungry for even more Star Trek? Here're some of the shiniest Trek stories we've posted recently to get you caught up on what's boldly going on.
While you're making up your mind what you think of the new Star Trek movie, why not take a look at Annalee's review from earlier this week? Spoiler: The words "brilliant and exciting re-imagining of the original series" and "hot, sexy new Spock" appear pretty early on.
Meredith managed to talk to some of the people responsible for said brilliance and excitement, giving you a look behind the scenes in these four posts:
J.J. Abrams Admits Star Trek Lens Flares Are "Ridiculous"
If you've seen a single second of Abrams' Star Trek you know the film is stuffed with audience blinding lens flashes. J.J. Abrams admitted he got a bit carried away, but explained why they're there.
The Romance That Will Change Star Trek Forever
J.J. Abrams' Star Trek takes your familiar crewmembers places they've never been before - including one love story that will forever alter the crew's dynamic. We asked writers Orci and Kurtzman about it.
Sulu and Chekov Talk Takei's Baritone, And How To Say "Wessel"
What's it take to pilot the shiny new Enterprise? We asked crew members John Cho and Anton Yelchin about changing their accents, mannerisms and overall tone, to portray Hikaru Sulu and Pavel Chekov.
Bana: Nero Is Really The Misunderstood Tragic Hero Of Star Trek
We got a few minutes alone with Star Trek's Romulan bad boy, Eric Bana, and looked deep into the psyche of Nero. Bana explained how he got so revved up, he passed out on set.
Meanwhile, Charlie Jane asks the important question Why Is The Media Trying To Make Star Trek Fans Look Like Naysaying Dorks?, wondering just why certain mainstream news outlets seem to want to find fans who hate the new movie.
If that's not enough for you, then we've also got The Complete Guide To All Things Star Trek Online to keep you busy, as well as our 5 Favorite Star Trek Rip-Offs, just in case you're wondering what's next. Besides going to see the movie again, that is.