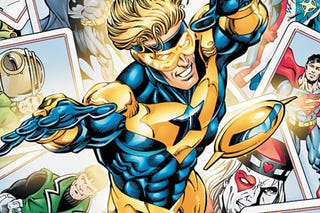 He helped create Snakes On A Plane, get X-Men Origins: Wolverine made and write Booster Gold's comic for a year, but can Jeff Katz' nerd cred overcome doubts about his new production company, American Original?
Katz's new company is described by its creator as a "nerd machine," and perhaps most usefully by the Hollywood Reporter, which calls it "an entertainment company aimed at supplying content across multiple platforms for geek consumers while providing services to creators working within the realm." What this really translates into is a factory for intellectual properties looking to create things for you and I to fall in love with, whether it be comics, television, movies or... well, anything else, really. The company's first focus will be its comic line, which'll co-publish 10 titles a year with Wanted publisher Top Cow Productions through Image Comics, although it's also working with producers like X-Men Origins: Wolverine and Superman: The Movie's Richard Donner and Star Trek and Planet of the Apes' Ralph Winters to bring new properties to the screen.
What makes American Original different from other such idea farms as Platinum Studios (Also, weirdly enough, publishing through Top Cow) is that the AO deal offers creators a percentage of the gross profit made by their creations; unusual for comic book deals that aren't owned outright by their creators, and something that Katz is proud of:
Pre-awareness and library are the keys to everything these days, but you also need to remunerate creative talent in creative ways... It's as much a movement to me as a company. The status quo is shifting to favor our positions, and so let's act now. We can be passive or we can drive our futures forward.
No word yet on when the first American Originals creations will appear.
Katz starts multiplatform content company [Hollywood Reporter]