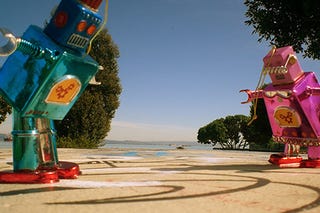 The command "Jump to it, soldier" will have an extra meaning to it next year, when the US army takes delivery of an all-new, all-hopping robot to assist in "intelligence gathering," and maybe more.
According to New Scientist, robot maker Boston Dynamics is working to create a military version of Sandia National Laboratories' prototype robot "Urban Hopper." The Hopper, which rolls around on wheels powered by electricity but can jump 8 feet in the air thanks to a gas piston may be mobile, but somewhat erratic, according to the US Defense Advanced Research Projects Agency's Mark Peterson:
The existing hoppers do not maintain a stable orientation during hops, but tumble randomly.
Boston Dynamics' mission is to create a robot that works on similar principals, but can hop up stairs or through open windows for urban reconnaissance, although worryingly enough, DARPA admits that there's always the possibility to add some guns to it, just in case. The first generation are due to be delivered in the latter part of next year.
Flickr Image by Paul Robert Lloyd.
Jumping robot to bounce into military service [New Scientist]