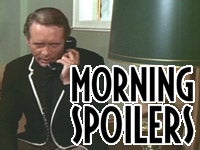 A flood of Iron Man 2 gossip includes the rumor that Gwyneth Paltrow will be a bullwhip-cracking dominatrix. There's a Terminator Salvation video, Lost finale hints, and Nimoy talks Fringe. Plus Dollhouse and Flash Forward.

Iron Man 2:
Rumor has it Gwyneth Paltrow has an extremely risque scene in the new movie where she's dressed up as a dominatrix and wields a bullwhip. Is she trying to compete with Scarlett Johansson, or possibly get involved in an actual whip fight with one of the movie's whip-wielding villains? Or could this be a "fantasy sequence"? In any case, after Duets, I will never again question what Gwyneth is capable of. [Comic Book Movie]
Justin Hammer, the industrialist played by Sam Rockwell, isn't British like in the comics, explains Sam Rockwell. They wanted to give Tony Stark a rival who was his own age, and American. Hammer won't fight or fly, because he's the brains, not the brawn. Meanwhile, Jon Favreau twittered that Tony Stark and Nick Fury just shot their first scene together in the movie, and also Scarlett Johansson was on set in her skin-tight catsuit. Meanwhile, Mickey Rourke is having to lose a ton of weight to play Whiplash, the Russian power-armor-wearing villain. [MTV and IGN and Cinemblend]
Favreau also posted this not-very-revealing set pic. [IESB]

Terminator Salvation:
Tonight's episode of Entertainment Tonight will include some reporting from the set of T4, and this promo includes a glimpse of what's to come. [IESB]
Click to view

Lost:
Here's what Damon Lindelof says about the season finale:
All I will say is that it is time for the time travel craziness to end. And once it does end, something very, very surprising will happen in its wake. It is a little bit of a game-changer.
Also, we'll learn not only where Hurley got that guitar case, but what's in it. [EW]
Locke asks Ben to make a sacrifice so massive, "it lands on Ben like a rock and cuts him to the core," says Emerson. And there are revelations about Locke so shocking, you'll be reeling. One thing's for sure: Locke's days of self-doubt are over. Now that he's realized he's indestructible, he's much more confident. The two-hour finale will explore Locke and Ben's metaphysical battle for rule of the island. And it sounds like Ben will be in the final season, but he's part of a scene which is left hanging, and which leaves you wondering who really will be back next year. [TV Guide Magazine via SpoilersLost]
Dollhouse:
Here's another trailer for tomorrow night's season finale.

Flash Forward:
Another snippet of future-vision aired during last night's Lost. Mysterious! [FlashForwardTV.com]

Fringe:
You should be keeping your eyes peeled for a very special gravestone and making note of whose name is on it. That's a huge piece of the puzzle. Massive. Also, Olivia pushes Walter to his breaking point, trying to find out what he knows about the trials and what happened to her. She pushes a couple of buttons, and Walter freaks out and reverts to some of his old ways. [EW]
Leonard Nimoy talks William Bell. [Fringe Television]

True Blood:
Ryan Kwanten sums up season two in four words: "Orgy, cult, locked up." [EW]

Additional reporting by Alasdair Wilkins.