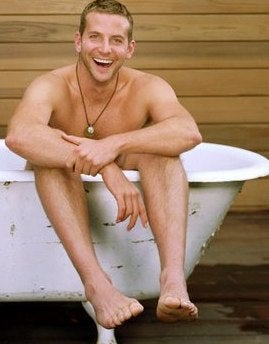 Rumors are flying that the eternal side character, Bradley Cooper, is finally getting his big screen debut as the power-ring wielding space cop, Green Lantern. But what are the real chances of this coming true?
HitFix is sparking the new rumor that Bradly Cooper is the next Green Lantern for Martin Campbell's space cop flick. Granted, the site is only stating that he is under consideration for the role along with many other actors, but this may be a smart move for the Lantern franchise especially with what else is coming up for Cooper.
Don't think Cooper is a big enough star to carry a superhero flick? You may change your mind after his summer movie The Hangover is released in August, since it's already starting to churn up a positive buzz.
If The Hangover is as fantastic as its rumored to be - and these days what ever is - it may put Cooper in a more favorable light for a lead. Then again who knows who else is up for the role? Still I've been Cooper supporter way back to his Alias days, when he played Bristow's bestie.
On the flip side, you could argue that Green Lantern isn't necessarily the comic book character that will bring all audiences into the theater, and therefore this gives Cooper a better shot to star in a flick that may not get Superman size funds. Either way, this feels like a good casting match.