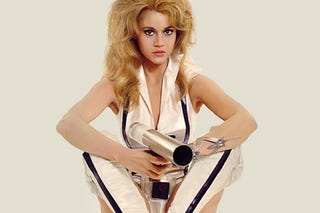 Hope you weren't too excited about the prospect of Robert Rodriguez' remake of 1960s sexy sci-fi pic Barbarella, because it's never going to happen... says Rodriguez himself. Meanwhile, rumor has it he's also off Predators.
Talking to MTV, Rodriguez explained that the movie's death came about from a mixture of budget concerns and a love of family:
It came to the point where [a company from] Germany offered us a $70 million budget, which would have been by far the biggest budget I ever would have had for a movie... But I had to shoot it in Germany and post it in Germany. Nothing against Germany, but I have five kids and I was like, 'God, I don't know if we can do that. I don't know if I can be away that long.'
Even though the movie will never happen, it doesn't mean that Rodriguez has entirely walked away from the project, however; he hopes to release the pre-production artwork in some form, because he loves it so much:
We had all this artwork and screen tests of what it would look like. It was a really cool, R-rated, sexy-almost like that [1981 animated] movie, 'Heavy Metal'-version of a 'Star Wars' movie. Something that no one ever could get to see. It was gonna be really great... People said, 'Why are you doing 'Barbarella?' And I showed them the artwork and explained it. They would go, 'Ooooh, okay!'
And meanwhile, Bloody Disgusting is reporting that Rodriguez' script for Predators is getting a new coat of polish from Alex Litvak (Medieval). It's now being described as a sequel to the original Predator, in which a team of commandos face down a whole race of vicious monsters. And while Rodriguez is still producing, through his Troublemaker Studios, he's no longer in line to direct. The film is on a fast track to come out July 9, 2010 from 20th Century Fox... which is awful fast, since no director is even signed up yet.
[MTV Movie Blog and Bloody Disgusting]