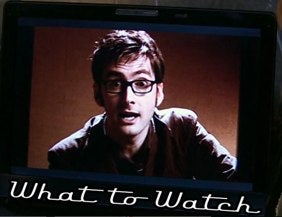 After last weeks colossally upsetting Lost , let's hope that this week's episode attempts to repair some of the damage. Too bad it's all Jack and Kate. Also, get to know Dollhouse's Alpha a lot better.


Monday:
Movies:
So now that many of you have seen Wolverine, tell me, which one was better? The new prequel, or X-Men The Last Stand, which is on at 5 PM at FX or Origins?
A virus is spreading, in this remake of Invasion of the Body Snatchers, and it's not the botulism injected into lead actress Nicole Kidman's unmoving face. The Invasion is on at 3:30 PM on HBO.
Old men get launched into space to save the world and make old people jokes — because they're old, and that's why it's funny. Space Cowboys is on Cinemax at 5:45 PM.
Tuesday:
Fringe -
This week Fringe reaches into their never ending bag of creepy old man villains and pulls out... a Trekkie. How timely. But also, the Observer knows something that is upsetting Walter, which is not okay in my book. Back off, baldie, this man is a national scifi treasure. Fringe is on Fox at 9 PM.
Fringe Promo:


Fringe Promo:


Reaper -
Nina moves in with the guys, and Sam tries to trick a wealthy jerk into signing over his soul. Who is so rich, he owns polar bears for guard dogs. How do I get that rich? Reaper is on the CW at 8 PM.
Reaper Clip:


Life After People -
Learn how your pools will turn into spawning grounds for diseases, if all the humans were to mysteriously vanish from the face of the Earth right now. Life After People is on the History Channel at 9 PM
Life After People Promo:


Wednesday:
Better Off Ted -
Veronica lets down her hair on Better Off Ted — thus scaring the crap out of her entire department. The season finale of Ted is on ABC at 8:30 PM.
Better Off Ted Clip:


Better Off Ted Clip:


Lost -
Lost, Lost, Lost....what you did last week was unacceptable. The screams of a thousand Daniel-loving geeks pierced the night air, how could you? Now all I'm left with is a domesticated house cat Sawyer and a plot that revolves around Kate and Jack trying to save the island. I may never forgive this show for that. But perhaps by trying to execute Faraday's final plans, Kate and Jack will actually manage to press the magic "reset button" and bring Daniel back to us — but we all know the show is too smart for that. Lost is on ABC at 9 PM.
Lost Promo:


Mythbusters -
The magic-bullet myths are tackled in this week's Mythbusters on the Discovery Channel at 9 PM.
Movies:
An athletic teenaged lycanthrope experiences the trials and tribulations of high school in the 1980s. Teen Wolf — the man, the legend — is on 8:30 PM on Cinemax.
Thursday:
Nothing but Star Trek Enterprise and TNG on the Syfy Channel from 8 AM until 8 PM, and then Star Trek: First Contact airs at 9 PM
Smallville -
So this time on "Chloe does crappy things to her friends," Davis is still alive and Chloe thinks she can control him by being around him 24/7... because, yeah, she's that good. Oh wait — looks like it's not working out, and everything all of her friends and ex-fiance told her was true, who knew? Ugh, what a waste of the Doomsday character. Smallville is on the CW at 8 PM.
Smallville Promo


Smallville Clip


Supernatural -
Time to get Sam to kick the demon-blood habit, so cue the intervention music and watch as Sam spirals down a predictable drying out, Trainspotting hallucination session. Let's pray for intervening angel fights to break up the predictable coming clean episode, Supernatural is on the CW at 9 PM
Supernatural Promo:


Supernatural Clip:


Friday:
There is another Star Trek: Enterprise marathon at the Syfy Channel from 8 AM until 5:30 PM.
Dollhouse
After falling madly in love with Alan Tudyk's crazy eyes, we're dying to find out more about his Echo obsession (and who'd he download into her?), plus did anyone else catch the name of the new girl... Whiskey? The season finale is on Fox at 9 PM.
Dollhouse Promo:


Movies:
It's actually a banner day over at AMC, with Poltergeist at 1 AM, Mystery Men at 12:30, Highlander at 3 PM and Star Trek: Nemesis at 5:30 PM.... I don't think you really could do much better, as far as taste and range here, unless you swapped out Nemesis for Khan).
Saturday:
Movies:
Join Will Smith as he continues in his quest to save the earth from all forms of CG-animated miscreants, in Men in Black, at 4:15 PM on TNT.
My favorite women-power, women-kill-each-other-with-sharp-things-in-the-dark movie of all time, The Descentm is on at 9 PM on the Syfy Channel. Make sure you see it because the sequel is right around the corner.
Sunday:
It's a Mother's Day Eureka marathon on the Syfy Channel, from 9 AM until 6 PM. I have no idea why.
Movies:
Have a freaky Sunday, and remember how hard it is to be a mom, with a teenage girl stuck inside of her. The original version of the classic Disney body-swapping caperFreaky Friday is on at 6 PM on AMC.
Additional reporting from Julia Carusillo