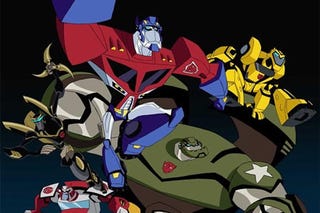 While I've often wished about a television network devoted entirely to Transformers, I have to admit feeling rather disturbed about losing an educational kids' channel to get it. Rev up your "moral decay" outrage engines.
Announced on Friday, the new network co-created by Transformers and GI Joe owners Hasbro and Discovery Communications (owners of the Discovery Channel, Animal Planet and the Science Channel, amongst many others) will launch next year, replacing Discovery Kids with a channel... well, based on toys, according to the official press release:
Both the network and the venture's online component will feature content from Hasbro's rich portfolio of entertainment and educational properties built over the past 90 years, including original programming for animation, game shows, and live-action series and specials. New programming will be based on brands such as ROMPER ROOM, TRIVIAL PURSUIT, SCRABBLE, CRANIUM, MY LITTLE PONY, G.I. JOE, GAME OF LIFE, TONKA and TRANSFORMERS, among many others.
This isn't the first time that Discovery has sold out; last year, the company did a deal with Oprah Winfrey that's changing Discovery Health into the Oprah Winfrey Network. This does, however, represent not only a new low in kids programming (at least according to Susan Linn, director of the Campaign for a Commercial-Free Childhood) but also a whole new source of genre entertainment. I don't know whether to be excited or appalled.