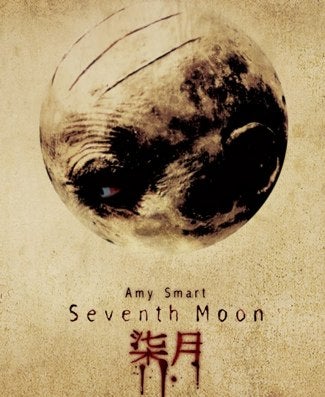 One of the directors of The Blair Witch Project has released the trailer for his next supernatural thriller, Seventh Moon, starring Amy Smart and the residents of hell unleashed on the world.





Eduardo Sánchez's Seventh Moon looks like a creep-out film where Amy Smart and her boy-toy wind up in the middle of hell on Earth, when the gates to damnation are opened in a mysterious ritual. Poor Amy is then chased by a pack of chapped, balding crazies. Along with torture and insanity, it looks like there is a shortage of Jergens in hell as well.
Here is the official synopsis of the flick:
"While honeymooning in rural China during the Hungry Ghost Festival, newlyweds Melissa (Amy Smart) and Yul (Tim Chiou) find themselves stranded at night in the middle of a superstitious ritual that may be more real than folk legend."
I'm actually quite fond of the dead face moon poster from the website, so here's hoping the rest of the film will be as eerie as that image. Sadly, the infernal undead don't look all that frightening in the trailer.