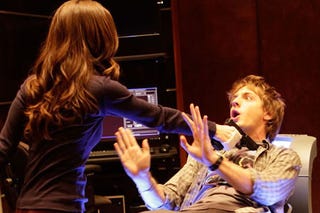 Finally, some news in Dollhouse's favor: The return of Prison Break, which preempted the show this week, had even lower ratings than Joss Whedon's troubled mindwipe show. But don't get too excited just yet.
For one thing, Prison Break is already cancelled - Friday's return was the start of the show's final run of episodes. And, for another, for the next four weeks, Prison Break will be Dollhouse's new lead-in, and Whedon, Fox and most likely everyone else were hoping that the show would bring a new, larger, audience to the show instead of... well, flopping (Friday's Prison Break drew a 1.2 in the 18-34 demographic; Dollhouse was averaging between a 1.4 and 1.5. Even Terminator drew in a 1.3).
There is somewhat of a plus side, however; Fox may look at these numbers as proof that Dollhouse deserves a chance on another night, as Fridays clearly aren't working out for any serialized drama. But whether or not that's very likely is another question, considering the attitude they've shown towards the show so far.
Prison Break return disappoints [THR Live Feed]