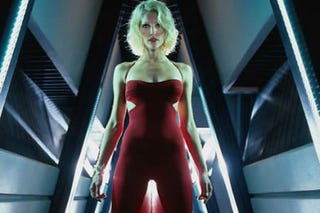 As Battlestar Galactica hurtles towards next week's two-hour finale, it's time for showrunner Ronald D. Moore to look back at the legacy of the show, and how it's changed science fiction... well, kind of.
Talking to the Hollywood Reporter, Moore was asked what Galactica's legacy to the genre will be. His response:
One of the goals going into it (was) we wanted to make a sci-fi show that was relevant and spoke to our times and dealt with real issues that approached the drama in a naturalistic way and made it "real." If we're able to define a legacy of asking other shows to do the same in the genre and keep sci fi going in a way that tackles meaningful ideas and challenge audience expectations, I think that would be a great thing.
Hasn't sci-fi always been about commenting on contemporary concerns, in some way...? Well, until Star Wars, perhaps...
(Moore also comments on the status of Virtuality, his pilot for Fox: "They haven't officially turned it down, they haven't officially moved it forward. We'll just have to wait and see." Officially turned it down? That doesn't sound too promising...)
Q&A: Ron Moore on 'Battlestar' series finale [THR Live Feed]