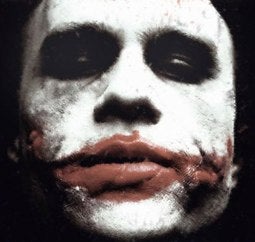 One sadly misguided soul, who was reportedly obsessed with the Dark Knight's Joker, donned full Heath Ledger clown make-up and pointed a loaded shotgun at a group of policemen. Bad move.
According to the Associated Press, Army Spc. Christopher Lanum had allegedly stabbed a fellow soldier at Fort Eustis, Virginia.
According to the FBI affidavit filed in federal court in Montowski's case, Lanum was dressed in The Joker outfit at the time of an argument early Sunday with his Fort Eustis suite mate, Spc. Mitchell Stone. Montowski told the FBI that Lanum idolized the character.
After stabbing and using a stun gun on Stone, Lanum and his girlfriend fled the scene in a mini van, and were pursued by police. When he refused to drop his shot gun and fired, the van went under fire by police. Stone survived.
This saddens me to no end. I beg anyone out there who needs help or starts relating to the incredibly troubled character, the Joker, in a serious manner to seek help immediately.