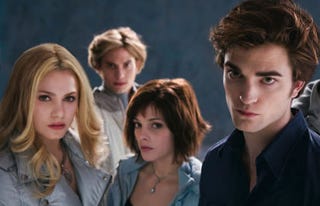 Okay, so we're not holding out a lot of hope for New Moon, the sequel to teen-vampfest Twilight, but the rumored director for Eclipse, the franchise's third movie bodes well, if true. Updated.
According to Variety, Summit Entertainment have named Spanish director Juan Antonio Bayona as the director of the third in the Twilight series, following Catherine Hardwicke and New Moon's Chris Weitz. However, in the LA Times, Summit's President of production Erik Feig denies that any deal has been officially made:
The 'Eclipse' directing job hasn't been offered to Juan Antonio or anyone else... We've met with three or four talented filmmakers and we'll be meeting with three or four more other candidates before we make any decision. No one has been offered the job.
No date for the start of production has been announced, but it probably won't be too long; New Moon hasn't even started yet, and screenwriter Melissa Rosenberg has already started writing the follow-up. If nothing else, Summit seems determined not to let the Twi fad end before the movies are finished.
Third 'Twilight' film finds director [Variety], Summit hires new 'Twilight' director, right? Wrong! [LA Times Big Picture]