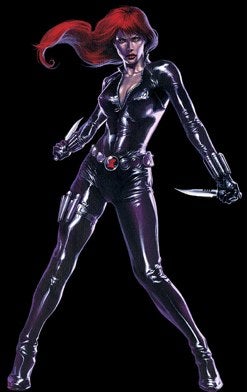 Scarlett Johansson is slipping into the leather catsuit and filling the high-heeled boots of Black Widow, while everyone's favorite Wrestler, Mickey Rourke, is getting his own cybernetic whips in Iron Man 2.
The curvy actress has signed on to play the dangerous Black Widow in the next Iron Man movie. Scarjo in a slinky skin-tight fighting suit, that's a beautiful thought. Scarjo, with a fake Russian accent....hmmmm, not so sure about that. Either way, I'll see it - for some reason, her eyes have some sort of weird spell over me.
And Mickey Rourke has finally come to an agreement with Marvel, and will be busting out the cybernetic whips to fight Tony in the sequel as Whiplash. Just the idea of seeing a nunchaku/whip wielding Rourke, buzzing around on a jet disc, fills my heart with joy.
Good decisions, team Iron Man, just make sure to give RDJ the most screen time, as my heart is still dedicated to him and his awesome witticisms.