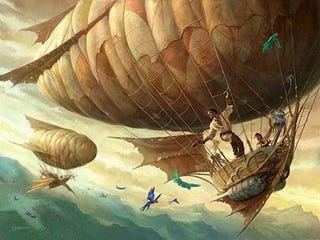 Attention struggling writers! Tobias Buckell, bestselling author of Sly Mongoose, is posting a book of writing advice online, one chapter at a time, and there's already enough stuff to save you from crushing mistakes.
Buckell is collecting his blog entries about writing into a condensed book, which will eventually see print but is online as a wiki right now. So far, he's put up the introduction and a few chapters, plus a set of the articles he wrote for Speculations about being a "NeoPro."
Reading Buckell's writing advice on the heels of Samuel R. Delany's About Writing is pretty illuminating - Buckell is much more concerned with the ins and outs of making it as a writer, although both authors offer some nuts-and-bolts advice. So far, Buckell's advice seems less philosophical, but probably more helpful to today's beginning author. I especially love his explanation for how to avoid creating a copy of a copy of classic science fiction stories - go back to the "original source" material and do your own research. Buckell seems to be adding stuff regularly, so it's worth bookmarking.
[A Draft In Progress via Tor.com]