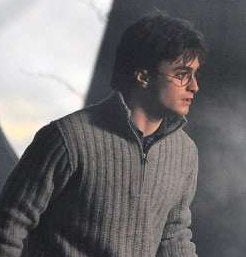 The newly chiseled-looking Daniel Radcliffe has been snapped in mid-filming of Deathly Hallows, the final Harry Potter chapter. Check a closer look at our maturing hero.
These new shots from Oculmencia have our boy running through the forest, wand in hand - looking pissed and ready to battle some evil. So, business as usual at Hogwarts.


In other Potter news here is the brand new trailer for Harry Potter and the Half Blood Prince, complete with smoke monsters and fire!

'
Hallows the first installment of the two-part ending to Harry Potter's saga, will hit theaters November 19, 2010.