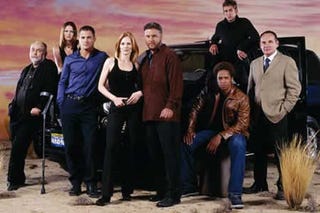 Forensic porn CSI is heading to a sci-fi convention in an upcoming episode, but don't expect a rerun of Bones' recent below-par con experience; this time, there's an unexpected guest-star: Battlestar Galactica showrunner Ron Moore.
Moore won't be the only familiar face appearing on the show - Kate Vernon, AKA Ellen Tigh, has also been signed on to appear in next month's episode, "A Space Oddity". They'll both appear alongside "other surprise cameos for sci-fi fans," according to one of the episode's writers, David Weddle, who co-wrote the episode with fellow Battlestar alumnus Bradley Thompson (They're the two behind such BSG episodes as "Scar," "Exodus" and "Lay Down Your Burdens"). According to CSI producer Naren Shankar, the episode has "a bit of a Battlestar Galactica vibe to it." No surprise, even before you discover that another BSG veteran, director Michael Nankin, is helming it.
The episode is due to air April 16th.