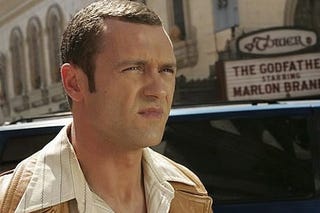 The ratings may not have been good, but the decision to cancel ABC's Life on Mars was ultimately made for the good of the show itself, according to ABC's executive VP Jeff Bader.
According to Bader, you can blame the show's own producers for the untimely demise of the time-travel series:
The producers were really pushing for it... Based on the ratings the way they are now, it didn't look like it would be back. So (the producers) said, 'Let us end it.' We thought, Let's do the right thing and give viewers a satisfying ending.
This concern for viewers comes, according to executive producer Andre Nemec, from the experience of having shows cancelled from underneath him before:
Obviously we would have loved to be on the air for nine years, and none of this comes without great sadness... But we found ourselves riding the bubble. The network was aware that we knew where we were going. We think (it's cool) that we're able to wrap this series up and not leave the audience high and dry.
Of course, whether this means they'll just copy the ending of the original or come up with something new, we'll have to wait and see...
Bubble shows ponder finale, future [Variety]