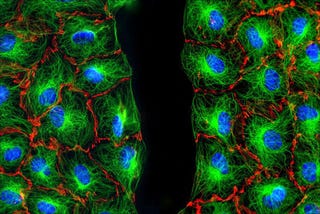 Here's a microscopy image of a fibroblast, stained with a few different antibodies. The green is microtubuli, the red is cell-contacts and the blue is DNA. It's just one of Jan Schmoranzer's amazing nano-art images.
Schmoranzer's microscopy images of "wounded monolayers," "starved fibroblasts" and a "nuclear face" come from the 2008-2009 NanoArt competition organized by NanoArt21.org.
Schmoranzer is a group leader and head of the BioImaging facility at the Molecular Cancer Research Center of Charite Berlin. He says:

Seeing the beauty of cellular structures, like microtubules, after many hours of tiring and repetitive lab-work often gives me the kick to go on. I am glad that scientist like me receive public attention for display of scientific imagery and I am excited to expand on projects like 'Cell Portraits' by exploring different cellular structures and cell types. I believe that visualizing science – the process of research as well as its end products – will gain importance in the future, not only to draw attention to a particular scientific subject, but also for science education itself.
You can see the rest of the gorgeous nano-art here. [via AzoNano]