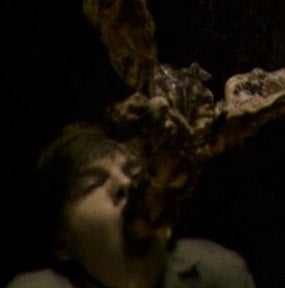 These moving posters are all the rage these days, but I'm not so sure how I feel about the barf-flower poster, from the paranormal movie NOTE: the poster has an automatic soundtrack.
Behold the boy who coughs up a brown flower, or an arm-vomit cloud, caused by an evil ghost in a story that's supposedly based on real events. The official synopsis for the flick is:
The Haunting In Connecticut charts one family's terrifying, real-life encounter with the dark forces of the supernatural. When the Campbell family moves to upstate Connecticut, they soon learn that their charming Victorian home has a disturbing history: not only was the house a transformed funeral parlor where inconceivable acts occurred, but the owner's clairvoyant son Jonah served as a demonic messenger, providing a gateway for spiritual entities to crossover. Now unspeakable terror awaits, when Jonah, the boy who communicated with the powerful dark forces of the supernatural, returns to unleash a new kind of horror on the innocent and unsuspecting family.
Sounds like your standard-issue haunting film. But I do like the lovely Virginia Madsen, so I'm more inclined to see it, even though they're harping on the "ZOMG THIS TOTALLY HAPPENED" vibe a bit too much. The film is in theaters March 27.