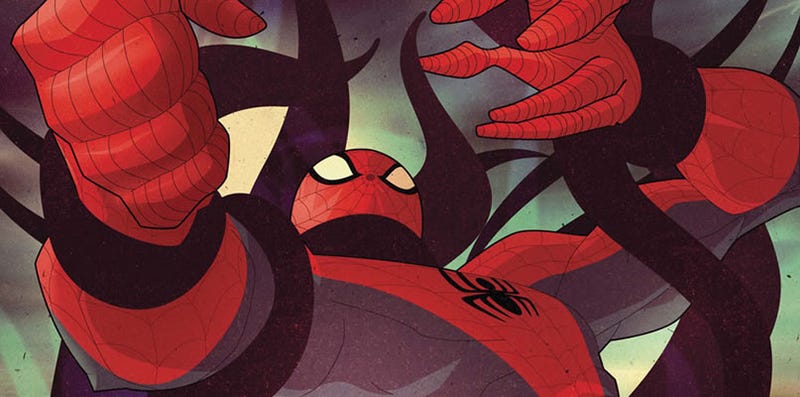 It's a week of new beginnings for familiar faces (and some unfamiliar ones) in this week's comics, including what happens after Batman's "death," Superman leaving Earth, and Spider-Man heading down to Puerto Rico.
DC Comics have a pretty hefty week of important launches hitting stores tomorrow. (And, no, I'm not including "WWII Heroes Fight Dinosaurs" book The War That Time Forgot, the first collection of which is released this week.)
You can catch a glimpse at how Gotham City has been affected by the disappearance of Batman in Gotham Gazette: Batman Dead?, or follow Superman as he abandons Earth to kneel before Zod in the first issue of Superman: World of New Krypton. You can even catch up with the storyline that led to the creation of New Krypton in the hardcover collection Superman: Brainiac, which also includes the last days of poor Pa Kent. There's even a brand new space superhero series launching from the cosmic-awareness addled mind of Jim Starlin, called (appropriately) Strange Adventures.
Marvel are heading into space themselves, with the launch of their new "Intergalactic War - Again!" series, War of Kings; it's one of a number of launches from the House of Ideas this week, which include the Hulk anthology mini-series Hulk: Broken Worlds, a continuity-heavy Dark Reign: Fantastic Four, the wonderfully goofy one-shot Spider-man & The Human Torch in Bahia De Los Muertos (The plot of which is "Spidey and the Human Torch go to Puerto Rico and meet monsters." Seriously, how could you resist?) and the surprisingly fun New Avengers: The Reunion, which offers marriage counseling via superheroes and evil mad scientist cults.
(If you're jonesing for some Wolverine ahead of the upcoming movie, Marvel are there for you as well; they're re-releasing both Barry Windsor-Smith's classic Weapon X and Chris Claremont and Frank Miller's even-more-classic Wolverine mini-series in new editions, just in case you've never read them before.)
Of course, all of the above pales before IDW's Galaxy Quest: Global Warming, which proved that apparently comic book spin-offs of minor SF comedy movies years after they came out can still manage to be more fun than the movies themselves. Just don't let writer Scott Lobdell know I said that.
All of these releases, and many more, can be found by perusing the complete list of this week's new comic releases, and then purchased - if you have "the green" - at your local store which can, as ever, be found using the Comic Shop Locator Service. Although, really, you should know where it is by now. What're you waiting for?