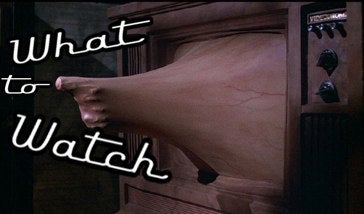 The Lost love triangle we all thought was dead and gone is back to drive us crazy this week. Plus, welcome the world's cutest league of evil, and watch Dollhouse break out the leather pants.
Monday:
Chuck -
The Sports Illustrated swimsuit models show up to make all the nerds sweat and drool, and Chuck tries to break up with Sarah... again, or is this the first time — sorry, this relationship is worse than Junior High. Chuck is on NBC at 8 PM.
Chuck Clip:


Chuck Promo:


Kyle XY -
More steamy over-the-shirt fumbling for Kyle and his kinda-sorta-sister Jessi. Jessi's mom Sarah is still missing, but there are more teen troubles ahead. Kyle XY is on ABC Family at 9 PM.
Kyle XY Clip


Kyle XY Clip


Kyle XY Promo


Heroes -
Sylar gets closer to his father and that scary bald guy — who was a lot scarier on True Blood — is hunting people down...with a sniper. And Claire tries to run a mutant underground railroad from her bedroom. Heroes is on NBC at 9 PM.
Heroes Promo


Heroes Clip


Tuesday:
There will be an Outer Limits marathon on the Sci Fi Channel from 8 AM until 3 PM.
No new Fringe this week.
Movies:
Get lost with the Fawn and the Pale Man, in Guillermo Del Toro's Pan's Labyrinth at 3 AM on Cinemax.
Wednesday:
Knight Rider -
Mike and KITT get their hands on a serum that enhances physical abilities. Could Mike finally be using artificial aids in his quest to measure up to the Hoff? Knight Rider is on NBC at 8 PM.
Lost -
Our lovers reunite, on ABC's Lost at 9 PM. Will tonight be the night that Sawyer sees Kate, Kate sees Sawyer, and Jack sees Sawyer seeing Kate seeing him? And will it make this love triangle less annoying? Cut out the shipper fodder, and bring us another Faraday-centric episode, please!
Lost Promo


Lost Canadian Promo


Life On Mars -
Stand up and shout. This week Sam gets a face full of pig-sniffing student radicals in his business, bearing gifts of bomb threats. But do they have tiny robots that crawl in and out of his eyes? LOM is on ABC at 10 PM.
Movies:
Hungry for a campy alien adventure with one of the most impressive cameo roll-calls, from Jack Nicholson to Glenn Close? Pop in your alien gum, and chew on Mars Attacks at 2 AM on TBS.
Wanna see why it's important to cast a strong male lead? Terminator 3: Rise of the Machines is on AMC at 8 PM. Nick Stahl is John Connor, and I'm a unicorn.
Thursday:
No new Smallville.
No new Supernatural.
League Of Super Evil -
It's the premiere episode of the League Of Super Evil, which follows a band of super villains scheming to take over the world — led by the tiny and adorable, but deadly, Great Voltar. I quite prefer Doomageddon, the gang's hell-hound. LOSE will be on Cartoon Network at 9 PM.
League Of Super Evil Promo:


Eleventh Hour -
Subways being used for a Holy war? For some reason, this sounds like a job for Hood and his eyebrows of empirical deductive reasoning. Eleventh Hour is on CBS at 10 PM.
Eleventh Hour Promo


Movies:
Make sure to check out the gory zombie goodness in Grindhouse Presents: Robert Rodriguez's Planet Terror at 10:30 PM on Starz. Even if it's just to watch Naveen Andrews carry around a glass jar full of human testicles.
Friday:
Terminator: The Sarah Connor Chronicles -
Cameron has had enough of Riley's lies, and so has everyone else. Sounds like Cameron's glitch kicks back in, and Riley has to high-tail it out of dodge, before everyone figures out who she really is. T:SCC is on Fox at 8 PM.
T:SCC Promo:


Batman: The Brave And The Bold -
This week, more Owlman and Batman Freaky Friday goodness, on Cartoon Network at 8 PM.
Batman: The Brave And The Bold Clip:


Batman: The Brave And The Bold Clip:


Star Wars: Clone Wars -
Operation Human Shield is up and running on the planet Ryloth, and it's up to the Jedi to stop it, on the Cartoon Network at 9 PM. This is the second episode of the three-part season finale.
Star Wars: Clone Wars Promo:


Star Wars: Clone Wars Promo:


Dollhouse -
Echo gets wiped remotely mid-job, causing her to lose her personality imprint at the worst possible moment. So it's up to Sierra to step in and save the day — or can she? The next episode is on Fox at 9 PM.
Dollhouse Promo:


Battlestar Galactica -
That bastard Boomer pulled a fast one on us all, so now what? The ship's a mess, Hera is missing, and people are going crazy, so enter Baltar. BSG is on the Sci Fi Channel at 10 PM.
BSG Promo:


Saturday:
Movies:
My personal favorite of the Spider-Man/Sam Raimi films — you know before they tried to kill the franchise — when it was just a boy fighting an octopus man... simpler times. Spider-Man II is on TBS at 11:30 PM.
Eli Roth's skin eating virus movie Cabin Fever is on the Sci Fi Channel at 2:30 PM, and if you haven't seen this hilarious and disgusting at the same time flick, I highly recommend setting your DVR.
Sunday:
Movies:
10,000 BC, the movie about our past from Roland Emmerich, that is so full of made-up facts I consider it to be complete science fiction, is on HBO at 3.30 PM. Right after that is the movie where the Silver Surfer got us all excited for a spin off movie that still hasn't come: Fantastic Four: Rise of the Silver Surfer is on at 5:30 PM, also on HBO.