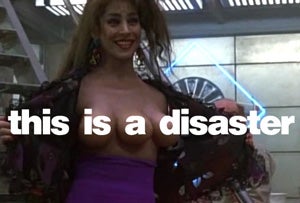 Musicals, mutants and the hidden secrets available to us all on Google Earth. Hey kids, what can I say... They're all disasters.

MUSICALS:
Spidey? Star Wars Musical Experience?! Sigh. How long before this...



DESIGN:
Speaking of Star Wars... Don't buy furniture or art from Tatooine Desert Nymphs who leave poor droids to fend for themselves.




SPLICE:
Ah the good old LoLmutants.




ATLANTIS:
Didja hear?! They found Atlantis on Google Earth!!! Here are some things I found on Google Earth that are also not total BS.


And don't even get me started on Street View!!!




DISASTER:
Oh yeah. There's a doozy of a disaster this week. Thank you Street Fighter! You there, please tell them who you are, and what that means...




Until next time!!