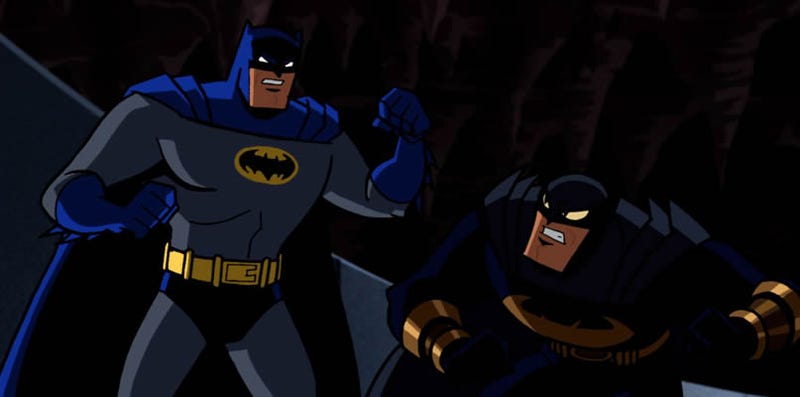 This week's Batman: The Brave and The Bold offered parallel worlds, evil dopplegangers and sane Jokers. No wonder this imaginative, colorful cartoon is quickly becoming the best Friday night show that isn't Battlestar Galactica.
The multiverse-spanning "Deep Cover for Batman" offered more of the deadpan over-the-top superheroing that's come to define this fun series; Batman was, as you'd expect if you'd seen more than a couple of episodes of the show, completely unsurprised by the discovery of parallel worlds featuring evil versions of himself - and even fighting Owlman, the evil alternate-Batman from the parallel world's Injustice Syndicate, didn't seem to faze him that much. The mix of grand ideas and comedically low-key delivery (The Drew Carey Show and Office Space's Deidrich Bader excels as Batman, with his faux noir narration) that's made this series such a joy to watch really came to a head with last night's trip to a world where everything was reversed, giving us a crime-fighting Joker and evil versions of the show's previous guest-stars Green Arrow, Blue Beetle and Red Tornado, along with a wonderful climax that saw the off-screen creation of a world full of irradiated zombie superheroes. If ever there was a call for a sequel, it's the promise of irradiated zombie superheroes.

Brave and The Bold never attempts to do anything more than entertain; it's not trying to offer any grandiose "definitive" idea of its characters, or recreate the superhero cartoon - it's literally just trying to make you laugh, get excited, and lose yourself in the story for half an hour. But, in doing so, it's ended up managing to come up with something that mixes the ludicrousness of the '60s Batman TV show with the '70s Bob Haney Brave and Bold comic and the brilliance of the '90s Batman: The Animated Series to create what may be the perfect Batman cartoon. Here's hoping it sticks around for some time.