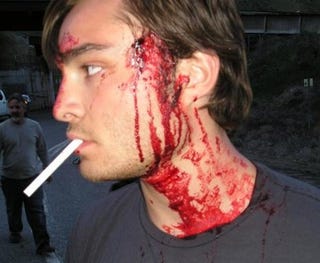 Looks like Ed Westwick wasn't committed enough to Sparkle Motion. We've got a handful of set pics from the Donnie Darko sequel, S. Darko, featuring Donnie's short-shorted little sis, wounded friends... and blood.
Ever since they canceled the panel at NYCC, we've been hellbent on getting to the bottom of this strange DVD release. S. Darko (starring Jackson Rathbone, Ed Westwick Briana Evingan and the original little sister form Daveigh Chase from Donnie) looks like it takes place in the middle of the desert. Perhaps some cigarette-in-sleeve-rolling bad boy wrecks a pretty red car into some sort of bone covered wagon (What the hell are those things all over the car anyways)? Anyway, the main story follows Samantha Darko and her bestie Corey on the road to LA to "make it big" but on the way a meteorite crashes down and the two start to have terrible visions.
S. Darko will be released onto DVD April 28th.
[Briana Evigan Online, Jackson Rathbone Online and Ed Westwick]