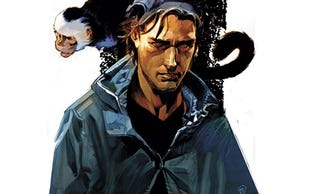 It's almost been a year since Y The Last Man finished, and much longer since plans for a movie version were announced. So where's our Shia-starring multiplex-filler? What's taking so long?
As Y director DJ Caruso told ComingSoon.net, the problem may all be a matter of script:
Yeah, it's been a while. I think it's one of those that the source material is fantastic stuff, it's great, but it's a tough one to lick into getting into a screenplay. I've tried to feel like it's a trilogy of movies and I think everyone sort of agrees, but at the same time, just getting the first movie right and getting the right beats and knowing what to put in, it's been really tough. You have great minds like David Goyer and you've got Carl Ellsworth and you've got Brian K. Vaughn, and I'm working with them to just kind of crack it and get it down. And we're almost there. I know it's a slow process, but I think eventually we'll get it.
Maybe I'm a little too much of a fan of the original series - albeit one who managed to forget it for both the Best of 2008 and Holiday Gift Guide lists - but I don't see why a straight adaptation of the first collection wouldn't work as an initial movie...
Exclusive: Director D.J. Caruso Has an Eagle Eye [ComingSoon]