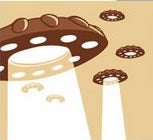 In author Neil Gaiman's poem "The Day the Saucers Came," the various science fiction apocalypses all happen on the same day. Now artist Jouni Koponen has created a whimsical illustrated print of the poem.
Koponen has collaborated with Gaiman in the past, providing illustrations for Shoggoth's Old Peculiar, "Babycakes," and "A Study in Emerald." Being a fan of "The Day the Saucers Came," Koponen worked with the Sandman and Coraline author to create a series of illustrations based on the poem, ultimately creating the poster below:
The 10" x 28" poster is available for $45.00 from NeverWear.
[Jouni Koponen via Neil Gaiman]