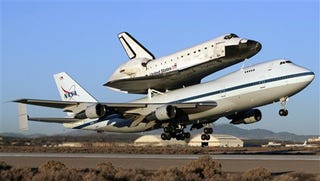 The space shuttle Endeavour hitched a ride on the back of NASA's special Shuttle Carrier Aircraft today, crossing the country to its normal hangar in Florida. Endeavour is the youngest of the five space shuttles built, and it is due to be decommissioned in 2010 along with its two remaining siblings, Discovery and Atlantis.
Reporting on a stop the shuttle made in El Paso, the El Paso Times says:

Depending on the weather along the route, the shuttle will arrive at Cape Canaveral either Thursday or Friday.

Endeavour landed at Edwards Air Force Base in California Nov. 30 after a 16-day mission at the International Space Station. The space shuttle had to land in California due to bad weather in Florida. The cross-country ferry is expected to cost more than $1.8 million.
Space Shuttle Endeavour Stops on Cross-Country Flight [via El Paso Times]
AP Photo by Ric Francis.