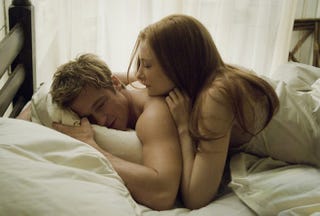 You may have seen a million pics of Brad Pitt covered in weird old-guy prosthetics, but it turns out he and Cate Blanchett really do bring the sexiness in The Curious Case Of Benjamin Button. Say what you like about David Fincher, he knows how to make a nice lookin' movie, with Pitt and Blanchett swathed in a gorgeous yellow glow... and not much else. And we've got dozens of stills (and nine new clips) to prove it.
How Old Are You?

Under The Table

When Ben And What's-Her-Face Were The Same Age

The 26-Year-Old 50-year-Old

"I've Never Had A Woman"

Daisy's Back

LIttle Old Man Pitt

One Ugly Baby

The Miracle Baby

Check out all the hot steamy Brad Pitt lovin' that's going on. Benjamin Button's will be out on December 25.